Best Rooftop Restaurants Near HSR Layout Bangalore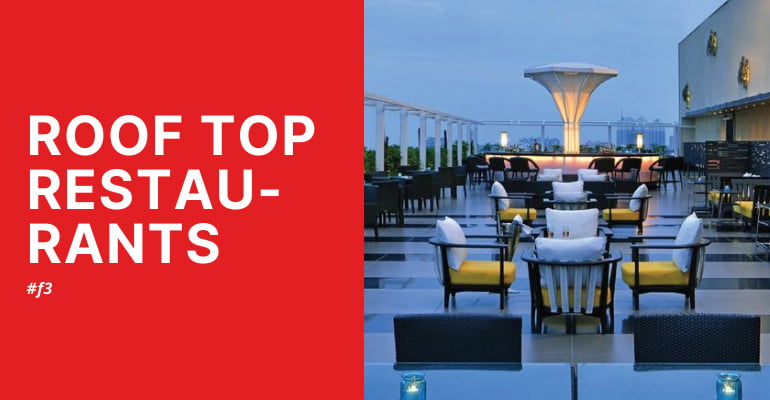 List of Best Rooftop Restaurants in HSR Layout
Are You looking for a romantic or a quaint date at a rooftop restaurant? Here are some of the best options that would be an ideal option with scrumptious meal, amazing ambiance with cityscape view and terrace lit cozy environment.
1. Chavadi
One of The best option that serves Italian, American, Mexican, and North Indian Dishes. The terrace seating area has a semi-bamboo setting with a bar set at the center. Cozy dim lights create a perfectly magical night to indulge in long conversations and delectable dishes.
Address: No 4, 2nd Main Rd, Sarvabhoumanagar, Sundar Ram Shetty Nagar, Bilekahalli
Timings: 12:00 PM to 10:30 PM
Phone: +91 8884444919 , +91 9741575076
2. Salvadores
With elegant interiors, the terrace is most romantic and the restaurant is of old victorian style. Located at Bangalore Central Mall in the city hub, serves Mediterranean, Continental, French, Italian and Ceylonese food. The spacious and breezy rooftop gives you privacy. Enjoy the creamy soups and wood-fire pizza you are bound to slip in the romantic streets of Italy.
Address: 5th Floor, Bangalore Central Mall, Residency Road
Timings: 11 am to 11 pm
Phone: +91 8025584076, +91 8025584077, +91 8025584945
3. The Rooftop Bar And Kitchen
A calm and composed atmosphere sets a perfect quaint setup for nature lovers. The minimal decor, dim lights, and grand buffet spread are ideal for a long chit-chat date. You can savor their carefully curated North Indian Dishes and fine craft beers and cocktails.
Address: 47, 4th B Cross Rd, KHB Colony, Koramangala Industrial Layout, Koramangala, Bengaluru, Karnataka 560034
Phone: +91 9606189696, +91 8095120120
Timings: 11 am to 11 pm
4. TBC Sky Lounge
The glass walls and see-through ceilings are perfect for star-gazing and quiet evenings. TBS Sky Lounge boasts a blend of modernity with nature lets you enjoy the Bangalore breeze and nibble on plenty of cocktails that keep you buzzing. Enjoy an array of Continental, Asian, Italian, and North Indian cuisines.
Address: Astra Hotel, 2795, 27th Main, Sector 1, HSR Layout.
Timings: 12:00 PM – 12:00 AM
Phone: +91 7259540555, +91 7338649944
5. Ebony
Modern and classic ambiance with breathtaking views and great food. The lively bars and high tables and chairs and spacious lounge area await an enthralling party. Plan friends get together or a romantic dinner date under the open sky.
Address: 84, 13th Floor, Barton Center, MG Road
Timings: 12:30 PM – 3:00 PM, 7:00 PM – 11:00 PM
Phone: 080 4178 3333
6. Rural Blues
With a greek ambiance, rural Blues at Sarjapur Road sails you to a greek island with a blue and white themed restaurant with well-manicured plants and a rustic stone floor. Enjoy the exquisite buffet or A La Carte from live kitchen Japnese cuisine, refreshing drinks with your besties.
Address: No. 112, Ambalipura – Sarjapur Road, Kodathi Gate, Bengaluru, Karnataka 560035
Phone: 080 4711 1100
Timings: 12:00 PM – 12:00 AM
7. Cafe Azzure
Cafe Azzure offers an open-air spacious and beautiful dining experience right under the sky. The peaceful ambiance and warm hospitality give you a relaxed atmosphere to spend your evening. The cafe offers a range of Indian and International dishes.
Address: 52, Mahatma Gandhi Rd, Haridevpur, Shanthala Nagar, Shivaji Nagar, Bengaluru, Karnataka 560001
Phone: 080 4112 5508
Timings: 12:00 PM – 12:00 AM
8. High Ultra Lounge
One of the most popular cafes has flavorful food options with premium drinks of your choice. Comfortable seating, live music, and a bird's-eye view of the city will surely enchant you. They serve a vast Continental and European menu in a picturesque cafe in town.
Address: 26/1, Rooftop, World Trade Center, Dr. Rajkumar Rd, Malleshwara, Bengaluru, Karnataka 560055
Timings: 12:00 PM – 11:00 PM
Phone: 090083 02527
9. Float
A Moroccan-style rooftop restaurant in Bangalore is an ideal place to rejuvenate your weekend mood. The rooftop lounge serves great North Indian dishes, screens live sports in addition with full bar facility. Comforting rooftop ambiance with white curtains ensures never ending conversations. Perch yourself and have a wonderful time with your friends and family.
Address: 7m, 424, 7th Main Rd, HRBR Layout 1st Block, HRBR Layout, Banaswadi, Bengaluru, Karnataka 560043
Phone: +91 7022372150
Timings: 12:00 PM – 11:00 PM
10. The Tao Terraces
A top-ranked five-star Rooftop restaurant with a posh ambiance is a lover's abode and classic celebration destination. The dim lamps, Buddhist-inspired decor, and cozy seating arrangements with the best music to enjoy make it a great drink and dine option to set your mood right. Serves delectable Pan-Asian cuisine and exclusive liquors. Dedicate a song to your loved one and soak in the luxury.
Address: Swami Vivekananda Rd, Yellappa Chetty Layout, Jogupalya, Bengaluru, Karnataka 560001
Phone: 099869 88444
Timings: 12:00 PM – 11:00 PM
With all the list, pick your next brunch or dinner spot and soak up in Gorgeous Bangalore weather at these rooftop restaurants and cafes in HSR Layout.
Fitness Fuel Factory is one of the best gyms in HSR Layout. Our trainers lead, educate, and encourages people or groups in exercises, including cardiovascular exercise (exercises for the heart and blood framework), quality training, and extending. They work with individuals, all ages, and different ability levels.